Rectal Disposable Temperature Probe
2016.08.01 / Monday
Rectal Disposable Temperature Probe
Practitioners should be acutely aware of patients' temperature because it serves as a useful indicator of change in their clinical condition. That's why body temperature should be measured and recorded regularly with precision, consistency and diligence.
True core temperature readings can only be measured by invasive means, such as placing a disposable temperature monitoring probe into the oesophagus, urinary bladder or pulmonary artery.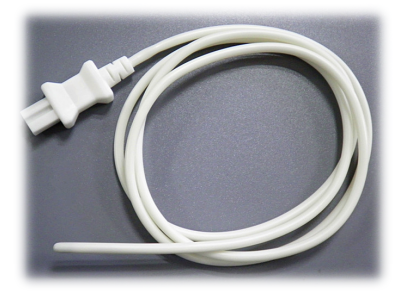 Non-invasive sites such as the rectum, oral cavity, axilla, temporal artery (forehead) and external auditory canal are accessible and are believed to provide the best estimation of the core temperature
Monitoring the rectal temperature is the most accurate method for measuring the core temperature of human body according to the medical theories.
To measure rectal temperature, wear gloves, cover the rectal disposable temperature probe with a disposable plastic sheath, and lubricate the probe cover before inserting it into the patient's rectum. For an adult, insert the probe approximately 1 to 1½ inches (2.5 to 3.5 centimeters) into the rectum and in the direction of the umbilicus. If you feel resistance when inserting the probe, remove it immediately. Do not force the probe into the rectum as this might injure the patient's rectal mucosa.
Exsense Rectal Disposable Temperature Probe:
Sleeve material: Medical grade PVC, TPU and silicone rubber.
• Medical PVC sleeve, easily insert to human body
• Pediatric probe is specially designed with 2mm diameter sleeving for providing the comfortable and convenient using conditions.
• Insulation cap prevent the electronic shock
• Waterproof
General Use:
Lubricating the probe, then slowly insert probe to the accurate position based on the clinical rules, it also can prevent the discomfortableness of patient.