The Report about Incidence Rate of Perioperative Hypothermia​
2019.05.15 / Wednesday
The Report about Incidence Rate of Perioperative Hypothermia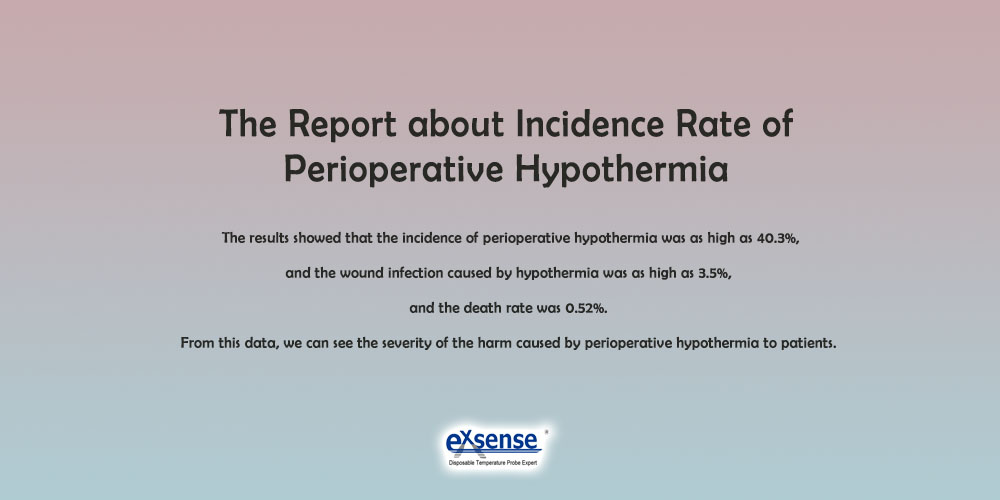 As an important vital sign, body temperature deserves higher attention, especially during the perioperative period.
Based on the current situation that we pay less attention to perioperative hypothermia, a total of 570 patients were randomly selected from hospitals in various cities by our researcher, and their perioperative body temperature changes were monitored in real time with a medical body temperature probe, so as to explore the incidence of perioperative hypothermia and the relevant sequelae possibly caused by it.
A total of 570 patients were included in the survey, and the results showed that the incidence of perioperative hypothermia was as high as 40.3%, and the wound infection caused by hypothermia was as high as 3.5%, and the death rate was 0.52%. From this data, we can see the severity of the harm caused by perioperative hypothermia to patients.
Another data on intraoperative fluids (infusion and washout) showed that only 19.2% of intraoperative fluids were heated, while less than 2.3% were heated with a thermostat. And the intraoperative use of washing fluid without heating up to 67.4%.
In terms of intraoperative thermal insulation measures, only 61 of the 570 patients were found to have adopted active thermal insulation measures, and up to 90.2% of the patients were only covered with a cotton blanket or surgical sheet.
Active insulation can effectively reduce the occurrence of hypothermia, but from the data we can see that we ignore the intraoperative active insulation measures, which must be paid attention to by medical staff.
According to the data in this report, it can be found that the incidence of perioperative hypothermia is still too high, 4 out of 10 patients are in hypothermia, and the sequelae caused by hypothermia also directly affect the mortality of surgery.
This is a warning to us: we must improve the understanding of perioperative hypothermia, strengthen intraoperative temperature monitoring, improve the rate of intraoperative active insulation, and strive to create a safer and more efficient surgical environment for patients.